2021 was an incredibly busy year for Music for my Mind, and we want to share with you some of the highlights of our work!
This year saw the long awaited launch of the Test Version of our Playlist Maker App, an incredibly exciting way to create treasured personalised playlists for the people you love. Although still in the developmental stages before full nationwide rollout, an amazing amount of thought and research has gone into the App, making it as beneficial as possible for our loved ones living with dementia. Click HERE to give it a go, and please give us some feedback on what you think!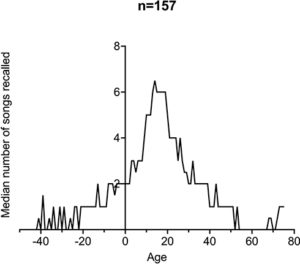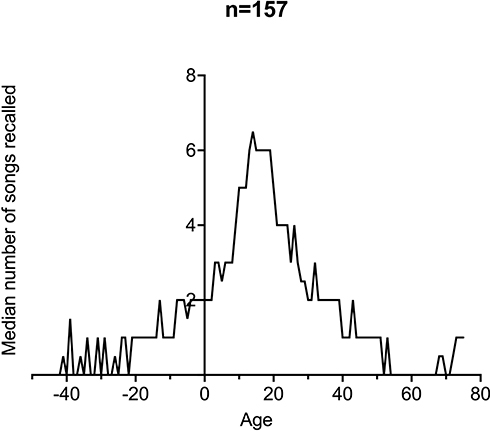 Graph showing the median number of songs recalled. The peak recollection of 6+ songs occurred between the ages of 13 and 19 years old
Some of the research involved in making the App was published this year too – in the Journal of Multidisciplinary Healthcare, a leading health journal, and the paper is available to read HERE. Two UCL students, together with statistician Andrew Nunn and the Music for my Mind team, sought to work out at exactly what age we make our strongest emotional ties to music. Using a survey of the last 75 years of hits and data from over 300 wonderful volunteers, the team wrote a scientific paper identifying 13-19 as the key age when music affects us. This has allowed us to calibrate our App to focus on those years, making our playlists more personalised. 
This has led to 70 personalised playlists being created, and therefore over 70 individuals and families using music to help care for their loved ones who are living with memory loss or dementia. But we want more and more people to have this opportunity, so please do have a go yourself or share our message with your friends and family!
We have some very exciting upcoming research which will use artificial intelligence to assess emotional responses to music, and help fine tune the playlists we create to be as rewarding as possible. We also want to work with researchers to learn more about music's effect on the brain, and how various types of music can be used at different times to soothe or to animate listeners. We also want to expand the music we offer, adding more categories and types of music, and make playlists for people from different backgrounds, making a bank of well-beloved songs from various languages.
Sign up to our newsletter to keep up with our work, and keep an eye on announcements about our Playlist Maker App rollout! 
Photo by Polina Kovaleva from Pexels
Help us test our Playlist Maker App.
Create a free Playlist for your loved one.