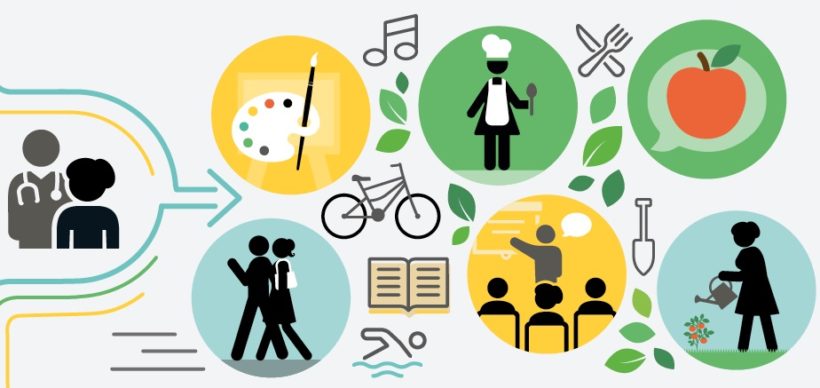 What is Social Prescribing?
Social prescribing aims to mobilise the power of communities to generate good health.
Recently, there was a roundtable with Caroline Dinenage from DCMS and a number of organisations working in the music and dementia field, to discuss the role music can play in health and well-being and improving care for those with dementia. We are excited to be a part of that conversation. With that in mind, we decided to look at what social prescribing is exactly.
Social prescribing defined.
According to the King's Fund, social prescribing is the act of referring people to relevant non-clinical services in their local area, which can help improve their well-being and health. This is done through GPs, nurses, and other health professionals, through the use of link workers. Link workers assess the needs of the individual and based on that and what services are available locally, make recommendations. They also collaborate with community groups to help them be accessible and sustainable and support people starting new groups.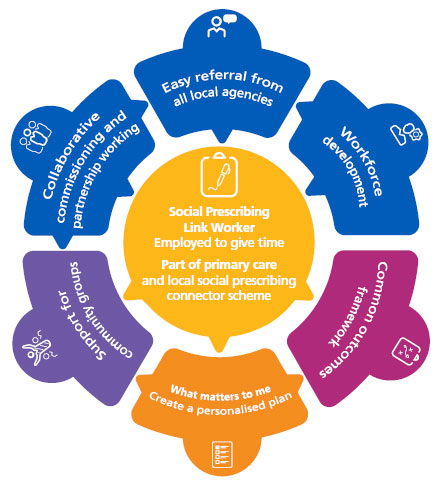 Who is it for and what kind of activities are prescribed?
Social prescribing can be relevant in a variety of situations – for people with long-term conditions, people who are struggling with mental health or people who are feeling lonely and isolated.
There is a wide range of services that can be offered through social prescribing. It can be anything from volunteering, gardening, cooking, art activities, sports, socialising and of course, music.
Does social prescribing work?
There have been a number of pilot projects, showcasing the effectiveness of social prescribing in improving quality of life, reducing anxiety, A&E attendance, and GP consultations. However, there is still a need for more evidence of the benefits of social prescribing, since a lot of the studies conducted so far are small scale, do not have a control group, or relate to individual interventions rather than the social prescribing model. For an initiative like that to be adopted widely, nationwide, its cost-effectiveness, as well as health benefits, need to be measured on a larger scale.
Social prescribing was included as part of the NHS long-term plan from 2019 and the target is that by 2023/24 every GP practice in England will have access to a social prescribing link worker and 900,000 people will be referred by then. In 2020 the National Academy of Social Prescribing was established as a charity, with the goal to focus on raising the profile of social prescribing, building the evidence base, and sharing promising practice.
How does music fit with social prescribing?
Using music with social prescribing can have a particularly great impact on the well-being of people living with dementia or memory loss. There are a variety of musical activities that are suitable for social prescribing, such as live music programmes, music therapy, personalised playlists, singing groups, and more.
The key role of a link worker is to discuss with the patient what matters to them and thus help them design a personalised solution. With music, this role would involve finding out whether music is important to the individual, how they enjoy music, and what kind of music they like. This discussion helps link workers determine the best musical activity for that individual.
Music for my Mind fully supports the wider spread of social prescribing and embedding the use of personalised playlists as part of that process. We believe in the powerful benefits that favourite music can bring to people living with dementia and to their family and friends. Further tests of the usability and effectiveness of our recently developed Web App will help turn it into an easily accessible tool that people can be referred to and thus help improve their quality of life.
Help us test our playlist creation App.
Create a Playlist for your loved one