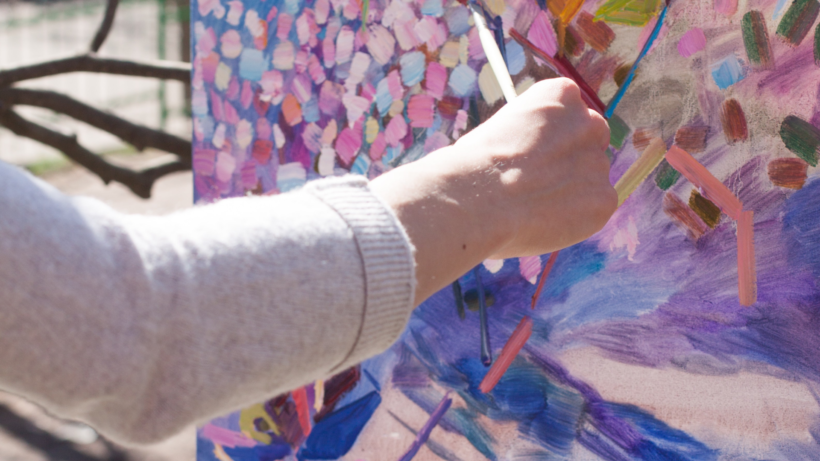 "Imagine a world where people with dementia had support in the community right from the word go. Where a word from their GP could unlock the creative spark that would inspire them, help them to stay lucid and to communicate with their loved ones. A world where dance, beauty, music and more opened up to them and helped them to override the stigma of a dementia diagnosis."
In some of our other blogs, we explored the variety of activities available for people living with dementia and the effects of music specifically on their quality of life and well-being. In this post, we will look into the benefits of arts for people with memory loss or dementia.
Throughout our lives we experience art and culture all the time and in various forms – literature, music, dance, museums, photography, arts and crafts and more, each having the power to enrich our lives. This benefit doesn't stop once people are diagnosed with dementia or memory loss. Participating in art activities has the power to restore personal esteem, inspire, re-energise, help find shared interests with others in your community and override stressful symptoms.
Examples of the benefits of art.
Arts 4 Dementia conducted a pilot programme in 2012, observing the effects that 17 different arts activities have on the participants with dementia. There were 209 participants – 128 people with dementia and 81 carers. Participants strongly agreed that the activities had enhanced their quality of life and workshops were the highlight of their week. They valued the inspirational venue and creative challenge, as well as the collaborative social opportunity and felt able to access creative responses.
Majority of the participants with dementia reported feeling more fulfilled, more confident and more energetic. As we've seen with music, the benefits don't stop there. The carers also reported experiencing benefits as a result of participating in the activities, such as feeling happier at their companions' restored energy, interest and relief of stress. The report also discovered that participation in an activity had prolonged effects and that majority of the participants stayed energised, happy and less stressed up to a week after.
Another recently viral example of the power art holds on our minds, is the video of former ballerina Marta C. González recalling the choreography of Tchaikovsky's 'Swan Lake':
Art as part of social prescribing.
All of these examples support the need for arts to be widely prescribed to people living with memory loss or dementia, at any stage of the disease, through link workers and social prescribing. Increasing attention is placed on using arts in the run up to diagnosis, with the aim to relieve the stresses and anxieties of dementia, delay degeneration and stimulate memory, thinking and social interaction and show the possibilities of still leading a normal life.
Creative activities offer something for everyone, whatever your circumstances are – they give the opportunity for non-verbal expression but also offer a way for people to engage and interact with their community and build relationships at the same time.
Just like we advocate for a personalised approach to music, arts interventions should be centred around the person they are for and built on their likes and passions. There isn't a 'one size fits all' solution if you want to bring maximum amount of benefit and enjoyment. The individual's abilities, preferences and their circumstances also need to be taken into account.
You can start with something simple such as a colouring book, a paint by numbers project or a jigsaw puzzle, to do at home. Here are some more ideas from the Alzheimer's Society, which have worked for others: https://www.alzheimers.org.uk/blog/5-creative-activities-help-people-living-dementia.
Or if you are looking to take part in group activities or classes, the Arts 4 Dementia website allows you to explore what is available in your area. Some examples include local dementia friendly museums and art galleries, drawing, dancing or singing classes and various arts and crafts projects – https://arts4dementia.org.uk/events/.
Help us test our playlist creation App.
Create a Playlist for your loved one