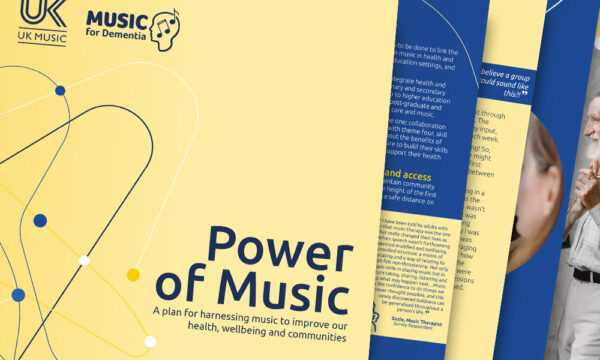 Exciting news has come this spring as the foundation Music for Dementia, together with UK Music, have just released their definitive report 'The Power of Music'.
This report, a long time in the making, seeks to coordinate and consolidate the evidence for the power of music and musical therapy for care in the UK. It was written with consultations across a broad range of experts, charities, government officials and, of course, people who live with dementia and their families. It includes many real stories of trials and of successes, and is really well worth a read for anyone with a passion for music or care. 
The report essentially seeks to highlight the tremendous (but still largely untapped) ability of music to improve quality of life throughout the national care system, especially for the dementia community. In particular, the report calls for a new 'Power of Music Commissioner', who will be responsible for coordinating and extending the vital (but, more often than not, unconnected) work of charities and hospitals throughout the UK. With this they also recommend extra funding for training and research, and for a major public awareness campaign to encourage new groups and new volunteers. 
"The pandemic has shown us how we urgently need to reimagine health and social care in the UK. Music has a critical role to play in this and while we're committed to making this happen, we can't do this alone… As a country we can change the lived experience of millions suffering from dementia and wider health issues. We can do it quickly, simply and we can do it now for a relatively small investment. It just needs commitment and a determination to work together. Let's do it."
Music for my Mind very much agrees: let's do it! 
You can read the full 'Power of Music' report here.