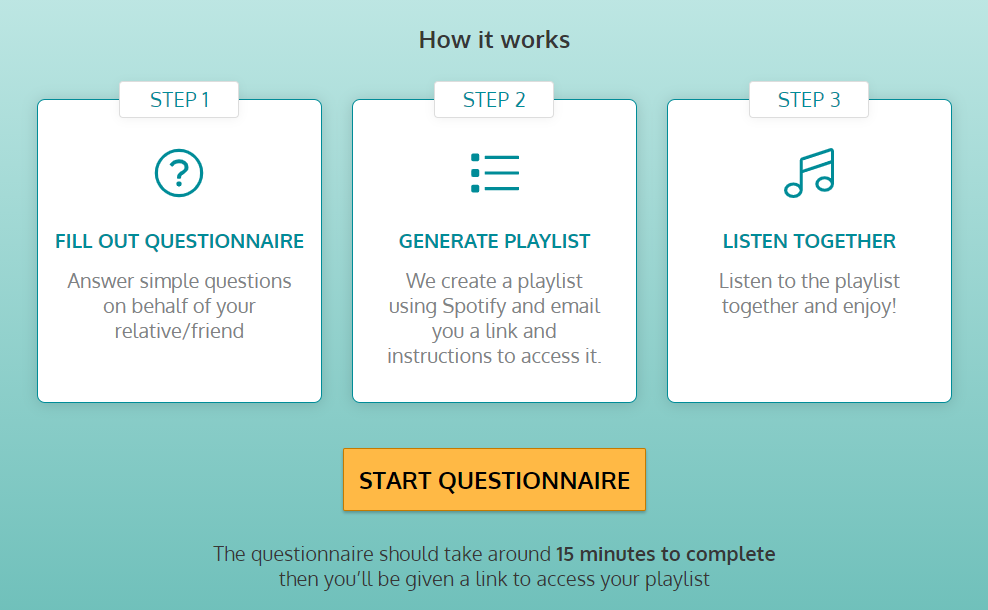 Help us move to the next stage by testing our App.
You can support Music for my Mind by simply testing our free and easy-to-use playlist creation App and share some feedback with us. You can use the App for a loved one living with dementia by completing an easy questionnaire with the opportunity to put in some particularly favoured musicians, and within about 15 minutes later you will have a personalised playlist of 30 songs.
What is really important to our work are your views! Feedback from as many people from as many backgrounds as possible – to know for sure what we've got right, what we need to change, and perhaps even what's missing that we need to include – will help us make the app as good as it can possibly be. That is essential if we want music based dementia care in the UK to be of the standard we all desire for our loved ones.
Here is some more information about the workings behind our new 15-minute playlist creation app.
As we all know, COVID-19, has a habit of scuppering very well laid plans. Our work in care homes before the pandemic had to be paused, and during the break we decided to bring forward our plan for an online playlist creation tool, to help people living with dementia in the community, which had been in the pipeline since the charity's inception. This tool was imagined to be able to curate an individual and personalised playlist of a variety of songs for a person living with dementia, from their formative years, all (ideally) within 15 minutes, start to finish. 
In preparation for the release of our App, our team worked  with tech experts to build the app's internal architecture and conducted a study into music consumption and particularly music demography (such as our research project you can read about HERE). 
Finally we have something really worth the effort: a free and easy-to-use app, which requires only a smart device (phone, tablet, laptop) and an internet connection. Now we want to hear the opinion of the people who we hope will be using and benefitting from this app and therefore, your feedback is very essential for us.
Our plan is for 100 families to use the app initially, creating a playlist for a loved one with dementia, and then completing a short feedback questionnaire about the process of using the app. This will provide invaluable data which we can incorporate into our second version, which should hopefully, with few modifications, be ready for nationwide release. 
If you could be one of these families that would make the world of difference to our plan, and one honest questionnaire may hold the answer to a problem which would have cut us off from hundreds of families. Use the link below to create your playlist now!
Help us test our playlist creation App.
Create a Playlist for your loved one