Create a personalised playlist for a loved one
When the Covid-19 pandemic hit the UK in March this year, our research programme in care homes was rapidly put on hold. Instead, we shifted our focus to helping families affected by dementia discover the benefits of personalised music. Thanks to our generous supporters, in partnership with DabApps, we have built a Web Application which helps family members, friends or carers to create a personalised playlist for a loved one living with dementia, in about 15 minutes.
We are looking for families to take part and test our App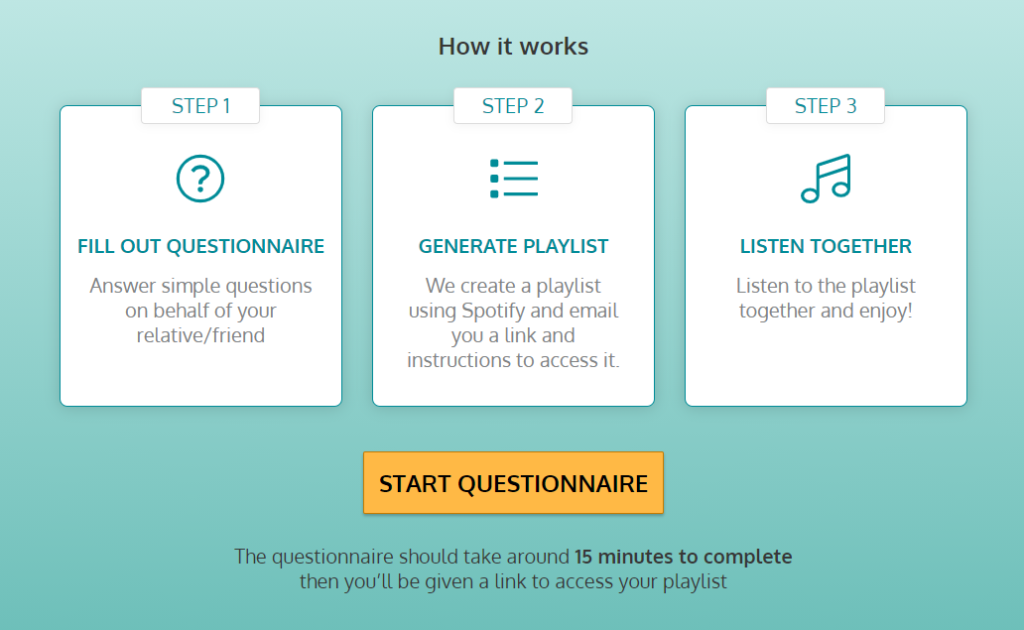 You can be one of the first App users to create a playlist for a loved one with dementia and your feedback will help us improve the experience and understand better what difference the music makes for your family. Read further to find out what volunteering involves and how to sign up.
All you need to be able to take part is:
internet connected computer, tablet or smart phone;
Spotify subscription (Spotify is a digital music platform; anyone participating who doesn't already have a Spotify account will receive an extra subscription month for free, in addition to the 30-day trial offered on sign-up).
Once you have created your loved one's playlist, we will ask for your feedback using short online surveys just after you have created a playlist and a month or so later. Your help in testing and improving our App is essential, in order to release it more widely, bring music to even more people who need it and help make the case for greater use of personalised music in the care of people living with dementia.
Sign up to volunteer
If you would like to volunteer, sign up using our form below: