Dementia is a Global Epidemic
Dementia is a global epidemic
Dementia – the problem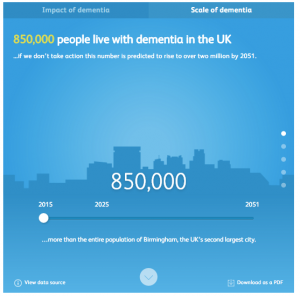 Dementia is a global epidemic with over 850,000 cases in the UK alone. A new case is identified every 3 seconds. There is no cure and no way of preventing the distressing mental decline. Dementia gradually takes away our personality, memories, dignity and capacity for independence. It takes away the futures we plan for our nearest and dearest, as they slide into dependence on the care of others.
Research is currently in progress to improve the future outcome for people living with dementia. It is anticipated that breakthroughs will be made in the next few years.
In March 2015, the World Health Organisation hosted its first Ministerial Conference on Global Action Against Dementia. As part of her opening remarks at the conference Dr Margaret Chan the Director-General of WHO said – "I can think of no other disease that has such a profound effect on loss of function, loss of independence, and the need for care. I can think of no other disease so deeply dreaded by anyone who wants to age gracefully and with dignity. I can think of no other disease that places such a heavy burden on families, communities, and societies. I can think of no other disease where innovation, including breakthrough discoveries to develop a cure, is so badly needed".
Dementia is not a normal part of ageing, but it is a condition that is more likely to occur in later years. It is a disease that we know little about and we cannot yet predict whether it will affect us. We don't know how to reduce our chances of developing dementia. Although some forms of dementia are hereditary, we cannot predict its onset nor in most cases do we know how to diagnose its onset.
Dementia affects people from all walks of life, regardless of intelligence, position, achievements or how well loved they might have been. Below is an incomplete list of well known politicians, actors and musicians who have lived with dementia.
Ronald Regan
Malcolm Young – guitarist ACDC- Age 62 went into full time care
Glen Campbell
Charles Bronson
Charlton Heston
Norman Rockwell
Rita Hayworth – early onset
Sugar Ray Robinson
Margaret Rutherford
Enid Blyton
Vincente Minelli
Harold Wilson -potential reason for resignation from office
Peter Falk
James Stewart
Rosa Parks
Terry Pratchett
Robin Williams –Lewy bodies dementia
Margaret Thatcher
Somerset Maugham
Winston Churchill